Welcome to M4!
MrMoo's Mosquito Management
Brought to you by Moo Of Cow Industries
WEBPAGE UDDER CONSTRUCTION!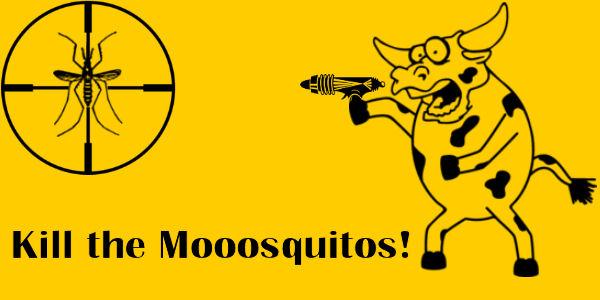 M4 provides on demand barrier spray to your yard and house to eliminate existing mosquitos and control the return of others for around 3 weeks.
No contracts or service plans just on demand spraying. Great for special events and parties that will be going outside. No need for bug spray or citronella candles. Enjoy your outside areas again!

During treatment an insecticide is sprayed with a high velocity misting blower along the perimeter of your property, on structures (swing sets, decks, sheds), trees and shrubs, and around the foundation of your house. Mosquitos like to rest on the underside of leaves and the blower has the ability to reach up to 35' in the air! Any standing water where larva can grow will be pointed out and treatment for areas that can not be drained (rain barrels, bird baths, drain pipes) will be offered.

Safe for your pets! This includes CHICKENS and RABBITS!


After a spray you will notice an immediate reduction in the mosquitos and other flying insects around your home. Another noticeable vacancy will be spiders and ants. No more finding Black Widows in the garage or ants in the kitchen.

The insecticide used is no trade secret just a profession grade product called Talstar P (active ingredient Bifenthrin) which kills over 75 pest insects on top of mosquitos.

Talstar insecticide kills over 75 insect pests and can be used for indoor pest control, outdoor pest control, food handling areas, turf and ornamental treatments, in the yard as a yard spray to treat fleas or other yard pests, and even for termite control! Talstar has a long residual, so it keeps on killing pests for over three months after you've sprayed it. Plus, Talstar is odorless, dries clear, leaves no stains, is non-irritating to the skin, and won't break down easily with rainfall. For termites, ants, mosquitoes, roaches, beetles, spiders, and everything in-between.

COSTS:
Pricing now starts at only $40 for a spray. This will cover a 3/4 acre lot perimeter and foundation spray.
More coverage for less money then the big companies with no contract!

Larvicide "DUNKS" are available to control mosquito larve in standing water at $1/ea.
These are available at places like Southern States and Tractor Supply but will cost twice as much.

Cash, check, credit cards, and Paypal accepted.



Servicing the area in close proximity to 23236 (N. Chesterfield, VA)

M4 is not a full time job but a service I will offer to help others out close by. You will get very personal service and the only person you will see spraying is me. If you have certain requests I will do my best to accomodate them. I will treat your property as if it was my own.

Not recommended for areas with fish ponds as Bifenthrin can be toxic to fish by interrupting oxygen absorption through their gills. Keeping sprayed areas 10-20' away will mitigate this hazard.


Want a service contract or guys with fancy trucks? M4 recommends The Mosquito Authority.